Post by JustJohn or JJ on Aug 1, 2016 6:36:10 GMT -7

The Horrifying Reason Siberia Is Dealing With an Anthrax Outbreak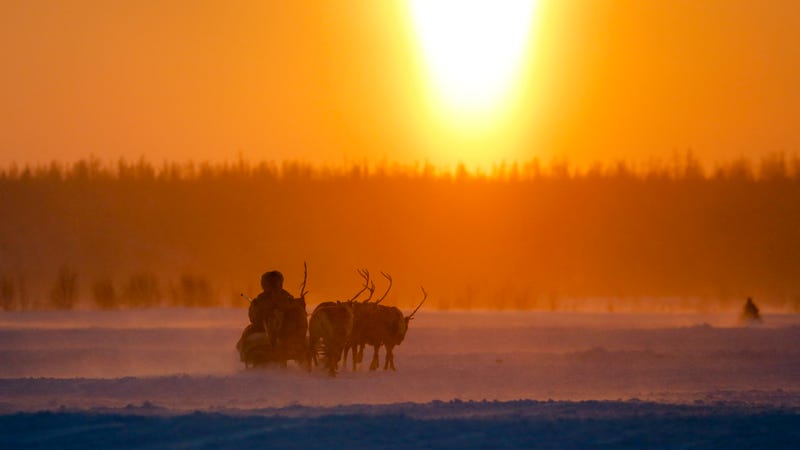 In a news report that could easily be the plot of a cult horror movie, an anthrax outbreak has swept the remote Yamalo-Nenets district of western Siberia, killing 1,500 reindeer since Sunday. According to NBC News, authorities think the outbreak began when some zombie anthrax thawed out of an infected reindeer corpse and woke up.
It's been an exceptionally hot summer in Siberia, with temperatures in some provinces soaring up to 10 degrees Fahrenheit above average. The extreme heat has triggered a seemingly endless rash of freak weather, natural disasters, and signs of ecological malaise, including enormous wildfires, record flooding, and natural moon bounces that might be explosive.
But above all else, this week's anthrax outbreak—the first to hit the region since 1941—signals that global warming is transforming Siberia's lonely wilderness into a feverish nightmarescape. Thirteen members of the nomadic Nenet community have been hospitalized, while more than 60 others are being temporarily relocated to avoid contracting the bacterially-transmitted disease that is, again, believed to have blossomed to life out of a sodden corpse.
Meanwhile, the Nenet community's reindeer are dying in droves. According to NBC News, people stopped vaccinating reindeer against anthrax about a decade ago, after the region had gone half a century with no outbreaks. Authorities are now scrambling to rectify that, but it's likely that more of the animals will die in the coming days.
While the idea of frozen life forms waking up and wreaking havoc sounds borderline supernatural, scientists have been aware that this can happen for a long time. As I wrote last year, a new field of study called "resurrection ecology" has sprung up around the discovery that certain bacteria, fungi, plants, and even animals will sometimes thaw out after long periods of suspended animation—up to millions of years, if the preservation conditions are good—and go about their business again.
In most cases, these resuscitated time travelers are completely benign. In fact, if scientists confirm that patient zero for the Siberian anthrax outbreak was a reindeer corpse, it'd be one of the first recorded instances of a frozen microbe thawing out and proceeding to trigger an outbreak.
But it probably won't be the last. As the Washington Post notes, the Yakutia region east of Yamal is home to 200 burial grounds for cattle that died of anthrax more than a century ago. "As a consequence of permafrost melting, the vectors of deadly infections of the 18th and 19th centuries may come back," Russian scientists ominously noted in a recent scientific paper.
Man, the future is going to be awesome.
[NBC News, Washington Post, Siberian Times]
________________________________________________________________________________________________________________________________________________________________
Outbreak? Russian Bio Warfare Troops Rushed To Arctic Due To "Dangerous Infection"


By Tyler Durden
Created 07/30/2016 - 10:53
The Russian military has reportedly sent biological warfare teams to the Russian arctic in northern Siberia after at least 40 people and 1,200 reindeer died as the result of a violent and rapid spread of what is believed to be Bacillus Anthracis, more commonly known as Anthrax.
Russian officials said the infection may have started after a contaminated corpse was exposed following a warm summer in the Arctic which saw temperatures rise as high as 95 degrees Fahrenheit.
There were dramatic scenes as the Russian army's Chemical, Radioactive and Biological Protection Corps, equipped with masks and bio-warfare protective clothing, flew to to regional capital Salekhard on a military Il-76 aircraft to deal with the emergency.
They were deployed by Defence Minister Sergei Shoigu to carry laboratory tests on the ground, detect and eliminate the focal point of the infection, and to dispose safely of dead animals.
"As of now, there is no single diagnosis of the dangerous infection," said a spokesman for the governor of Yamalo-Nenets, Dmitry Kobylkin.
Officials noted that they are not certain Anthrax is the sole cause and another biological agent may be to blame. Because of the remote location of the outbreak the situation has been, for the most part, contained according to Russian officials.
Regions north of Tarko Sale are the focus of the outbreak)
The claim that the Anthrax infection originated in nature sounds legitimate enough, but one can never discount the possibility of the involvement of state-sponsored or rogue assets, as has been noted in a recent release of U.S. government documents which expose widespread human experimentation programs [8] utilizing chemical, biological and radiological weapons:
"…we have identified hundreds of radiological, chemical, and biological tests and experiments in which hundreds of thousands of people were used as test subjects. These tests and experiments often involved hazardous substances such as radiation, blister and nerve agents, biological agents, and lysergic acid diethylamide (LSD). In some cases, basic safeguards to protect people were either not in place or not followed. For example, some tests and experiments were conducted in secret; others involved the use of people without their knowledge or consent or their full knowledge of the risks involved."
The Russian Arctic emergency highlights the importance of protective CBRN equipment [9] that can be deployed quickly in the event of a rapidly spreading biological infection, chemical gas, or radiological threat.
* * *