Post by JustJohn or JJ on Aug 12, 2017 5:44:54 GMT -7

Recipe for Boston style baked beans
Serves 8
The secret to great baked beans is dried beans (Great Northern or navy beans, or an heirloom variety such as soldier beans, yellow eye, Marfax, or Jacob's Cattle; for heirlooms, go to
www.osbornefamilyfarm.com
, a Maine grower). Soak them overnight or use this quick-soaking method, which takes 1 hour. Older versions of this dish call for lots of molasses and salt pork. Here, we tuck pieces of bacon into the beans with enough molasses to give them a fine taste but not overwhelm the dish.
1 pound (2 cups) dried white beans
2 medium onions, coarsely chopped
¼ cup dark brown sugar
¼ cup molasses
1 tablespoon tomato paste
1 tablespoon
dry mustard
¼ pound piece slab
bacon, cut into strips
4 cups water, or more
if necessary
½ teaspoon salt
¼ teaspoon pepper
1. Soak the beans overnight, drain, and rinse them. Or, in a large, heavy pot, combine the beans and enough water to cover them by several inches. Bring to a boil and simmer for 2 minutes. Turn off the heat, cover the pan, and let the beans sit for 1 hour.
2. Set the oven at 300 degrees.
3. Drain and rinse the beans and return to the pot. Add the onions, brown sugar, molasses, tomato paste, mustard, and bacon. Add the 4 cups water, salt, and pepper. Return the beans to a boil. Cover the pan and transfer to the oven.
4. Cook the beans for 4 hours, checking them every hour to see if the pan seems dry. Add more water as needed, ½ cup at a time.
5. Taste for seasoning and add more salt and pepper, if you like, and let the beans sit for 15 minutes before serving.
Note: If making in advance, the beans will thicken on standing. To reheat, add more water and cook over low heat, stirring often, for 10 minutes or until hot. Sheryl Julian
And then:
Grill some of these: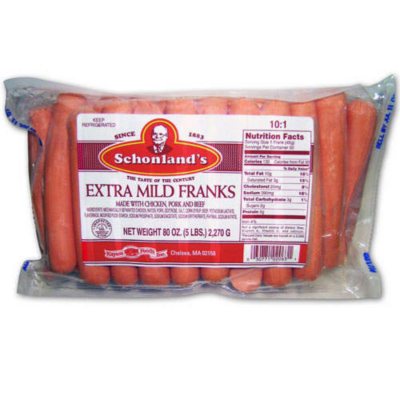 And then:
Bake this:
Maple Syrup Corn Bread

Maple Syrup Corn Bread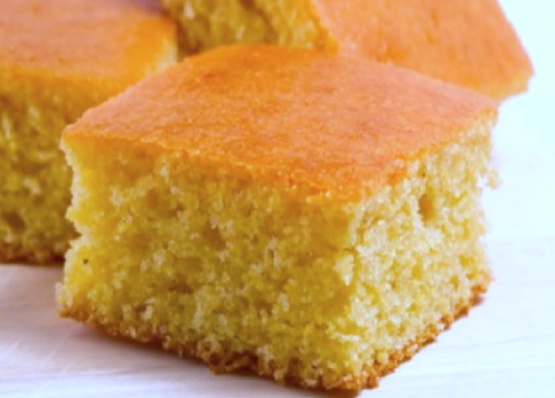 Here's a good-old New England recipe. Flavored with a hint of maple syrup, the corn bread makes a perfect companion to baked beans and hot dogs Plymouth, New Hampshire
12 Servings
Prep/Total Time: 30 min.
Ingredients
* 1-1/4 cups all-purpose flour
* 1 cup cornmeal
* 2 teaspoons baking powder
* 1 teaspoon salt
* 1 egg
* 3/4 cup fat-free milk
* 1/2 cup maple syrup
* 3 tablespoons butter, melted
* 2 tablespoons dark brown sugar
Directions
* In a large bowl, combine the flour, cornmeal, baking powder and salt.
* In a small bowl, whisk together the egg, milk, syrup and butter;
* stir into dry ingredients just until moistened.
*
* Pour into a 9-in. square baking pan coated with cooking spray. Bake
* at 400° for 15-20 minutes or until a toothpick inserted near the
* center comes out clean. Serve warm.
Yield: 12 servings.
And for dessert we will have:
Wild Blueberry Pie with ice cream.
Ingredients
For the crust:
2 ½ cups all-purpose flour
1 tablespoon sugar
1 teaspoon salt
2 ½ sticks unsalted cold butter, cut into ½-inch cubes
7-8 tablespoons ice-cold water
1 egg, beaten
For the filling:
5 cups frozen Wild Blueberries
½ cup sugar
1 teaspoon lemon juice
½ teaspoon cinnamon
¼ cup tapioca starch*
1 ½ tablespoons cold butter, cut into ½-inch cubes
*Note: If you don't have tapioca starch on hand, you can substitute ¼ cup flour but the juices will run slightly.
Preparation
In a large bowl, whisk together the flour, sugar and salt until combined. Cut cold butter into the flour using a pastry cutter, two knives, or a food processor, until the mixture resembles coarse meal.
If using a food processor, transfer mixture back to the bowl. Add ice-cold water, one tablespoon at a time, and using your hands, mix together until dough forms.
Divide the dough mixture into two even sized mounds. Use your hands to form each one into a disk and sprinkle lightly with flour. Wrap each disk tightly in plastic wrap and refrigerate for at least two hours.
Preheat the oven to 400 degrees F.
In a large bowl, mix together frozen Wild Blueberries, sugar, lemon juice, cinnamon and tapioca starch. Let stand for 15 minutes.
Meanwhile, working with one disc at a time, roll out dough onto a lightly floured surface, about 12 inches in diameter, 1/8 inch thick.
Carefully place the first crust onto a 9-inch pie dish and gently press the dough down against the bottom and sides of the dish.
Pour the berry filling into the pie shell. Scatter pieces of butter over top.
Place the second crust over the pie, crimp the edges to seal and make a few slits in the top crust. Or, you can cut the second crust into strips and weave to make a lattice top.
Brush the top crust with the egg wash. Bake for 45-50 minutes until golden-brown and juices are bubbling.
Transfer pie to a cooling rack and bring to room temperature before serving.
Wild Blue is Good for You!
Yum !!!!!!