Post by JustJohn or JJ on Mar 23, 2018 8:55:03 GMT -7


Poland abortion: Protests against bill imposing new limits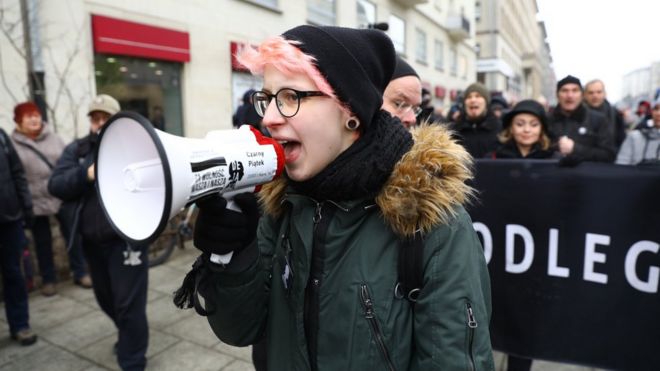 Large protests are expected in the capital, Warsaw
Major street protests are expected across cities in Poland against plans to further tighten the abortion laws, already one of Europe's strictest.
A bill in parliament seeks to ban abortions in cases of foetal abnormality, one of the few exceptions allowed under the current law.
Anti-abortion groups say many terminations involve foetuses diagnosed with Down's Syndrome.
Pro-choice groups say more women will be forced into illegal terminations.
What is the law in Poland now?
Abortion is already mostly banned. The only exceptions are a severe and irreversible damage to the foetus, a serious threat to the mother's health, or when pregnancy is the result of rape or incest.
Estimates say there are already far more illegal abortions than legal ones in Poland - between 10,000 and 150,000, compared with about 1,000 or 2,000 legal terminations.
Access to contraception is also tight in this staunchly Catholic nation - the only over-the-counter contraception available is the condom.
Who opposes the change?
Opposition parties and pro-choice campaigners who say women's health and lives will be put at risk.
"This bill would further hinder women, particularly those from low-income and rural communities, from accessing safe abortion care," a letter from more than 200 groups said.
The Council of Europe has warned that the bill runs counter to Poland's human rights commitments and urged lawmakers to reject it.
"Preventing women from accessing safe and legal abortion care jeopardises their human rights," the council's human rights commissioner, Nils Muiznieks, said.
Thousands of people are expected to take to the streets of the capital, Warsaw, and other cities, against the bill, following smaller demonstrations earlier this week.
Who supports the change?
The citizens' initiative, led by one group called Stop Abortion, said an estimated 1,046 abortions, or 96% of all terminations carried out in the country in 2016, were on foetuses showing abnormalities, many of them diagnosed with Down's Syndrome.
"This isn't just a text. This law concerns the lives of three human beings every day," the group's Kaja Godek said.
President Andrzej Duda, who is close to the Catholic Church, vowed to sign the controversial bill into law if approved by parliament, where the conservatives have a majority.
The proposal was approved by parliament's justice and human rights commission but still needs to be studied by another commission before being sent to lawmakers for a vote, AFP news agency reports.
The proposed changes are less restrictive than those discussed in 2016, that would have led to a complete ban - the only exception would have been when the mother's life was in danger.
The plan was scrapped after tens of thousands of people dressed in black - most of them women - protested across the country.
What's the picture of abortion across Europe?
European countries are among the world's most pro-choice when it comes to abortion, but there are some exceptions:
Malta and Vatican City are among six countries worldwide where abortion is banned outright under law
There are severe restrictions in Northern Ireland (where the law differs from the rest of the UK), San Marino, Liechtenstein and Andorra
In Ireland, a referendum will be held in May on whether to reform the country's near-total ban - abortion is only allowed when a woman's life is at risk