Post by JustJohn or JJ on Oct 5, 2018 4:56:02 GMT -7

Hot look or provocative? Outcry at Polish teens guidebook
By Adam Easton BBC News, Warsaw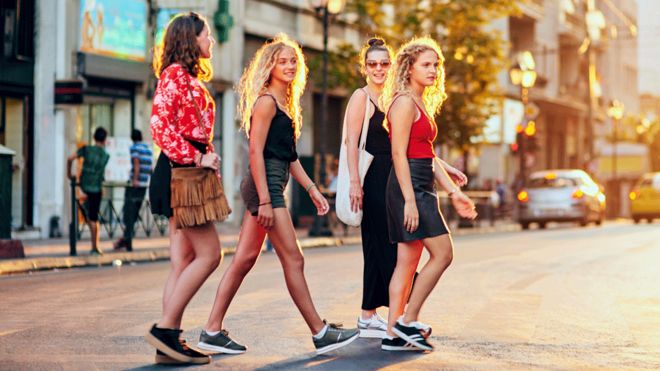 (File pic) The book singled out girls who left their backs uncovered and wore miniskirts
A Polish NGO has apologised after its instructors used a guidebook in a Warsaw school that advises girls to avoid unwanted sexual advances from their teachers or bosses by treating them "with respect" and being "nice".
The Zycie na maksa guidebook, which translates as "Life to the Max", also warned girls not to dress "provocatively", listing mini-skirts, exposed belly buttons and low-waisted trousers, because it's an "invitation to something more".
One of its messages is that girls who are harassed have only themselves to blame.
The news caused a sensation on social media with many posters incredulous that such a book could be used in an educational workshop for teenagers.
Excerpt from Life to the Max
"Provocative or hot look: Miniskirts, body, exposed belly button, low-waisted trousers, strings, ample cleavage, bare back… are invitations to something more. You pass off as a frivolous, available girl.
"If they harass you, it's your own fault. You're tempting fate."
Image copyright Dorota Loboda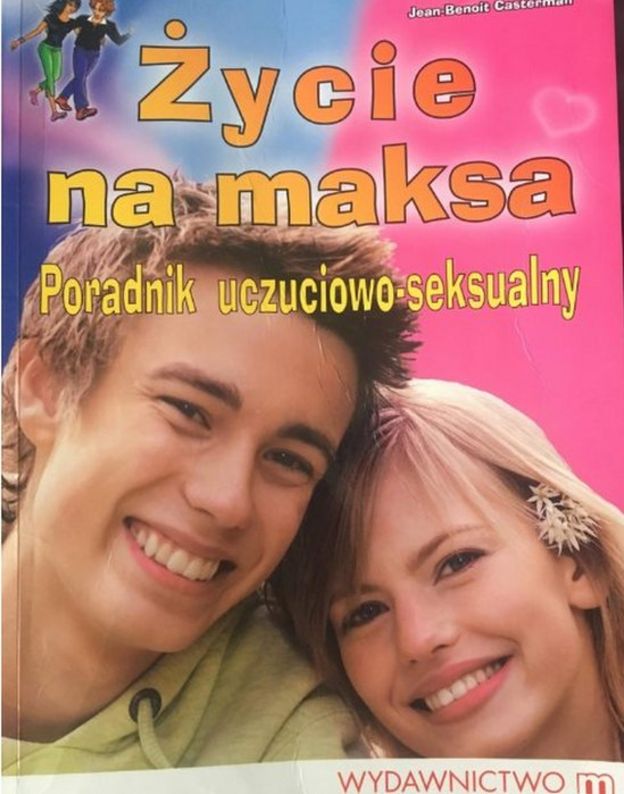 After tweeting excerpts from the book, Dorota Loboda, a member of the Women's Congress programme council, wrote: "Don't be rude to the molester. Really?!"
Anja Rubik, a well-known model campaigning for comprehensive sex education in Polish schools, tweeted: "I'm lost for words."
The NGO involved - the Institute for Integrated Prevention, which is supervised by the health minister - promotes youth development and recommends taking an integrated approach to problem prevention.
The book, which was translated into Polish from the original by the author Jean-Benoît Casterman, was used in an extra-curricular educational workshop "Archipelago of Treasures', in a school in Zoliborz, northern Warsaw, the daily Gazeta Wyborcza reported.
The programme was aimed at 14-16 year olds and designed to promote alcohol and drug prevention and sexually risky behaviour. The institute says more than 35,000 young people take part in the programme annually.
"We sincerely regret the book 'Zycie na maksa - an emotional-sexual guidebook' was used during the Archipelago of Treasures preventative programme. This book is not part of the Archipelago of Treasures programme and no copies should be used during the programme," the Institute for Integrated Prevention said in a statement.
The NGO added that it had advised instructors not to use the book more than three years ago because it was inappropriate and contradicted the institute's message.
The Ministry of Education has asked the institute to explain how the book came to be used.
Some commentators say sex education in Polish schools is not taken as seriously as it should be.
"There is no such thing as sex education," Renata Kim, a journalist for Newsweek Poland who recently wrote about sex education in Polish schools, told the BBC.
"There are classes called preparation for family life but parents can excuse their children from attending. There are few qualified teachers and lessons are given by science teachers or priests or nuns."
The standard has been poor for many years, she believes, but has been getting worse under the current Law and Justice government, which promotes textbooks that reflect traditional Catholic values.