Post by pieter on Oct 5, 2018 10:07:59 GMT -7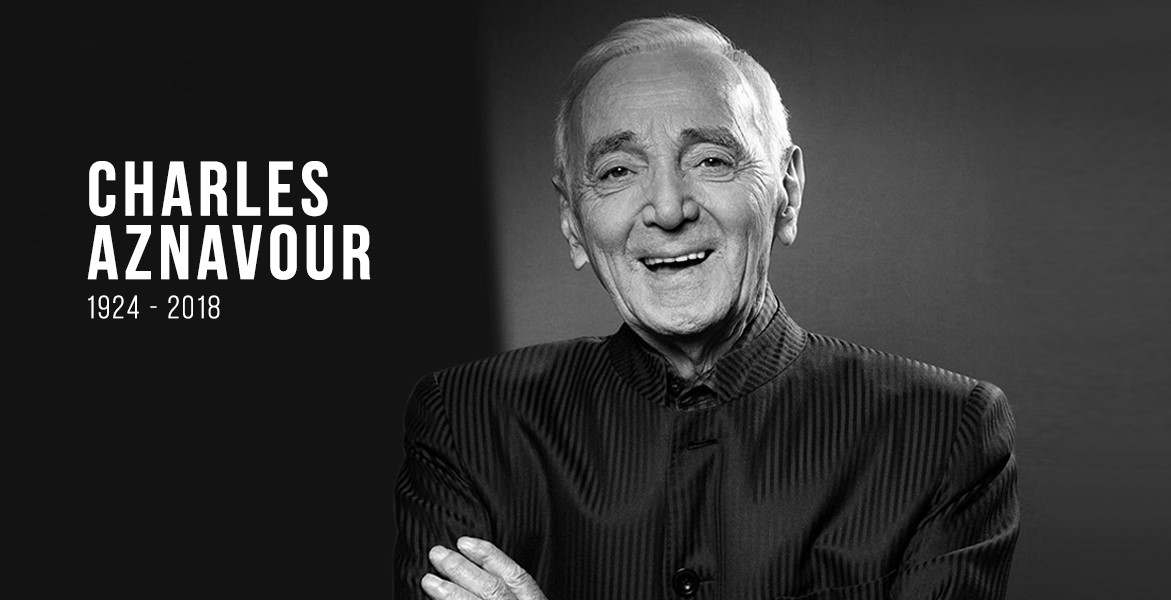 Charles Aznavour
(/æznəˈvʊər/; French: [ʃaʁl aznavuʁ]; born
Shahnour Vaghinag Aznavourian
, Armenian: Շահնուր Վաղինակ Ազնաւուրեան; 22 May 1924 – 1 October 2018) was a French-Armenian[4] singer, lyricist, and diplomat. Aznavour was known for his distinctive tenor voice: clear and ringing in its upper reaches, with gravelly and profound low notes. In a career spanning over 70 years, he recorded more than 1,200 songs interpreted in nine languages. He wrote or co-wrote more than 1,000 songs for himself and others.
Aznavour
was one of France's most popular and enduring singers. He sold 180 million records during his lifetime and was dubbed France's Frank Sinatra, while music critic Stephen Holden described Aznavour as a "French pop deity". He was also arguably the most famous Armenian of his time. In 1998, Aznavour was named Entertainer of the Century by CNN and users of Time Online from around the globe. He was recognized as the century's outstanding performer, with nearly 18% of the total vote, edging out Elvis Presley and Bob Dylan.
Aznavour
sang for presidents, popes and royalty, as well as at humanitarian events. In response to the 1988 Armenian earthquake, he founded the charitable organization
Aznavour for Armenia
along with his long-time friend impresario Levon Sayan. In 2009, he was appointed ambassador of
Armenia to Switzerland
, as well as Armenia's permanent delegate to the United Nations at Geneva. He started his most recent tour in 2014.
On 24 August 2017, Aznavour was awarded the 2,618th star on the Hollywood Walk of Fame. Later that year he and his sister were awarded the Raoul Wallenberg Award for sheltering Jews during World War II. His last concert took place in NHK Hall in Osaka on 19 September 2018.
Armenian connection
"
Every Armenian sees him as a close relative
," Pashinyan said. "
Because Aznavour is the one who lifted Armenia to the roof of the world
." Born
Shanoun Varenagh Aznavourian
, the singer cut the Armenian suffix from his stage name but
never forgot his Armenian roots
.
He founded
Aznavour and Armenia
, a nonprofit organization created after the devastating earthquake that hit
Soviet Armenia
in
1988
. His movie credits include
Atom Egoyan
's 2002
Ararat,
a film that dealt with the 1915 massacres of up to 1.5 million Armenians under the Ottoman Empire.
Aznavour
campaigned internationally to get the killings formally deemed
a genocide
.
Together with his brother in-law and co-author Georges Garvarentz he wrote the song "
Pour toi Arménie
", which was performed by a group of famous French artists and topped the charts for eighteen weeks. There is a square named after him in central Yerevan on Abovian Street, and a statue erected in Gyumri, which saw the most lives lost in the earthquake. In 1995 Aznavour was appointed an Ambassador and Permanent Delegate of Armenia to UNESCO. Aznavour was a member of the Armenia Fund International Board of Trustees. The organization has rendered more than $150 million in humanitarian aid and infrastructure development assistance to Armenia since 1992. He was appointed as "Officier" (Officer) of the Légion d'honneur in 1997.
In 2002, Aznavour appeared in director Atom Egoyan's acclaimed film "Ararat", about the genocide of Armenians in the Ottoman Empire in the early 20th century.
In 2004 Aznavour received the title of National Hero of Armenia, Armenia's highest award. On 26 December 2008, President of Armenia Serzh Sargsyan signed a presidential decree for granting citizenship for the Republic of Armenia to Aznavour whom he called a "prominent singer and public figure" and "a hero of the Armenian people".
In 2011 the Charles Aznavour Museum opened in Yerevan, Armenia.
In April 2016 Aznavour visited Armenia to participate in the Aurora Prize Award ceremony. On 24 April, along with Serzh Sargsyan, the Catholicos of All Armenians, His Holiness Garegin II and actor George Clooney, he laid flowers at the Armenian Genocide Memorial.
Along with holding the mostly ceremonial title of French ambassador-at-large to Armenia, Aznavour agreed to hold the position of Ambassador of Armenia to Switzerland on 12 February 2009:
First I hesitated, as it is not an easy task. Then I thought that what is important for Armenia is important for us. I have accepted the proposal with love, happiness and feeling of deep dignity.
He wrote a song about the Armenian Genocide, entitled "Ils sont tombés" (known in English as "They fell").