Post by pieter on Nov 8, 2018 14:48:01 GMT -7
In Thousand Oaks Shooting, Gunman Who Killed 12 Is Identified as a Former Marine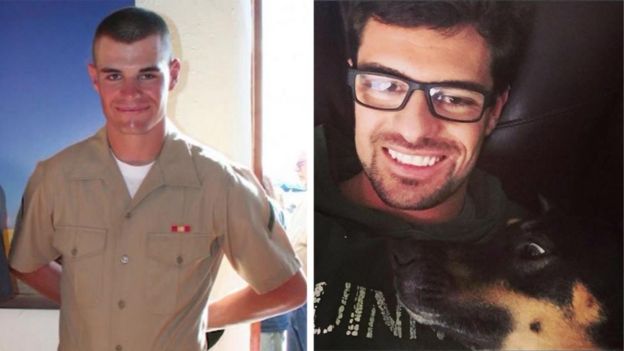 The suspect, the 28-year-old Ian David Long, had served in the US Marines and fought in Afghanistan
THOUSAND OAKS, Calif. — A Marine Corps veteran who had served in Afghanistan fatally shot at least 12 people Wednesday night when he stormed a crowded country and western dance hall in Thousand Oaks, Calif., the authorities said.
The Ventura County sheriff, Geoff Dean, said that the gunman, Ian David Long of nearby Newbury Park, Calif., apparently took his own life after being confronted by officers responding to the Wednesday night attack. One officer, Sgt. Ron Helus, was killed when he entered the building to help. The gunman used a .45-caliber handgun that he purchased legally. It had been outfitted with an extended magazine.
The shooting came just over a year after 58 people were killed at a country music festival in Las Vegas when a gunman opened fire from a high-rise hotel room. There was an eerie parallel between the two shootings as some of the same people who emerged from the bar, the Borderline Bar & Grill, described having survived the shooting on the Las Vegas Strip.
Deputies had some interaction with Mr. Long the last few years, the sheriff said, including a reported disturbance at his home in April that prompted mental health specialists to talk to him. The health specialists, who talked to Mr. Long about his military service after suspecting that he might be suffering from post-traumatic stress disorder, determined that he was not an immediate danger to himself or others and that he could not be involuntarily taken to a mental hospital.
Witnesses recalled a chaotic scene at the bar, which was filled with hundreds of people, many of them college students: A gunman opening fire, first at a security guard, as patrons dropped to the dance floor, hid under tables and broke windows to escape.
Many survivors said they were alive because of the actions of complete strangers. Sheriff Dean said that at least six off-duty officers were inside when the gunman opened fire. A parent told Sheriff Dean that "they stood in front of my daughter" and protected her. Witnesses also told local news media about patrons in the back of the bar who broke out a window and helped a number of people escape.
Kerry Henzgen, left, and Kelly Griffin watched the procession for Sergeant Helus. "We know kids that were in there that got out," Ms. Griffin said.CreditJenna Schoenefeld for The New York Times
The number of people wounded in the shooting on Wednesday was unclear, but the Ventura County Sheriff's Office said about 22 people had been taken to various hospitals.
The sheriff, his voice cracking, recalled Sergeant Helus, the only victim identified so far by law enforcement.
"He died a hero because he went, he went in to save lives, to save other people's lives," Sheriff Dean said.
[California Shooting victims: Sgt. Ron Helus 'went in to save lives'.]
Country music was playing in the dimly lit bar when people first heard gunshots some time before midnight. Some said they had initially mistaken the sounds for firecrackers.
Sheriff Dean said Mr. Long first shot a security officer outside the club and then walked inside, turned to the right and shot "other security and employees" before starting to fire on patrons in the main part of the club.
"No idea what the motive was," the sheriff said. "We don't believe he was targeting people."
"I just started hearing these big pops," said a witness interviewed by a local television station.
Sheriff Geoff Dean of Ventura County said that the gunman apparently took his own life after being confronted by officers responding to the Wednesday night attack.CreditJenna Schoenefeld for The New York Times
Sarah DeSon, 19, a communications student at California State University Channel Islands, said: "I saw sparks going and smoke. There were smoke bombs going off next to me."
Ms. DeSon described a stampede of people fleeing the club.
"I fell on my face," she said. "I remember looking back at one point to make sure he" — the gunman — "wasn't behind me."
Chyann Worrell, a junior at the university, said she was at the bar to celebrate the 21st birthday of her friend Nellie Wong for a night of line-dancing with a live D.J. Shortly after 11 p.m., Ms. Worrell said, the gunman, wearing dark clothing and a dark baseball cap, drew his gun. He aimed it at a man near the front of the bar.
Ms. Worrell ducked for cover and heard a barrage of bullets. As she ran out of the bar, she said, she saw several bodies sprawled on the floor. Hours later, she had still not heard from two friends who had been with her.
One young woman inside the bar, Teylor Whittler, said the gunman appeared focused and did not appear to be targeting anyone in particular.
"I saw him shoot," Ms. Whittler said, adding that someone had yelled, "Everybody get down."
She said she saw him quickly reload his gun and fire again. "He knew what he was doing," she said. "He had perfect form."
Law enforcement officers on Thursday outside the home of the shooting suspect, Ian David Long, in Newbury Park, Calif.CreditRobyn Beck/Agence France-Presse — Getty Images
"People started running to the back door," she said, and she heard someone shout, "Get out — he's coming." She then fled and heard another burst of gunfire.
Brendan Kelly, 22, helped several people escape from inside. "It's your worst nightmare," he said. "It's terrible."
Sergeant Helus entered Borderline with a Highway Patrol officer shortly after the first 911 calls, Sheriff Dean said. The gunman immediately started shooting at them, striking Sergeant Helus several times.
When the next group of officers entered the bar, they found Mr. Long dead in an office inside the club with an apparent self-inflicted gunshot wound.
Hours after the shooting, local law enforcement officers and F.B.I. agents arrived at the neatly kept suburban home in Newbury Park, west of Thousand Oaks, where Mr. Long lived with his mother. The home was cordoned off with red crime scene tape.
A neighbor, Tom Hanson, 70, said that Mr. Long was in middle school when they moved in. After high school, Mr. Long served five years in the Marine Corps, including seven months in Afghanistan, according to military records. He left the corps with the rank of corporal in March 2013.
Image USA Today
Mr. Hanson described Mr. Long as an introvert who rarely left home. Sometime this spring, Mr. Hanson said he became concerned about shouting coming from the house and called the sheriff.
In addition to that interaction with deputies, Sheriff Dean said that Mr. Long was the victim in a January 2015 fight at a different bar in Thousand Oaks, and had also received a traffic citation.
[Read more on the gunman in the Thousand Oaks shooting.]
The attack in Las Vegas — and the mass shooting at a high school in Parkland, Fla., in February — renewed the debate about the prevalence of guns in the United States and their connection to the high number of mass shootings in the country. It also came less than two weeks after a gunman massacred 11 people at a synagogue in Pittsburgh. President Trump said on Twitter that he had been "fully briefed on the terrible shooting."
The rampage in Thousand Oaks, a city of 129,000 people about 40 miles west of Los Angeles, was the deadliest shooting in Southern California since 14 people were killed in a terrorist attack in San Bernardino in 2015.
Thousand Oaks is an upper middle class suburb of Los Angeles popular with law enforcement officers and military veterans. Many residents are drawn by its relatively affordable housing, with sprawling ranch houses tucked into subdivisions and cul-de-sacs.
A conservative community, residents pride themselves on safety. In 2017, the Ventura County Sheriff's Office handled just five murders in its jurisdiction, which covers thousands of miles, though it excludes some cities, including Ventura.
People comforted one another early Thursday near the scene of the shooting in Thousand Oaks, Calif.CreditMark J. Terrill/Associated Press
Capt. Garo Kuredjian, a spokesman for the sheriff's office, said many of the young people inside the crowded bar had turned out for a college country music night. The bar is not far from Pepperdine University, which said in a statement that several of its students were at the bar at the time of the shooting. California Lutheran University, whose campus is about four miles from the bar, said it had canceled classes on Thursday.
The bar's website says that for a quarter-century, it "has stood as the Ventura County's largest country dance hall and live music venue," with more than 2,500 square feet of open dance space.
Ms. Wong, who was celebrating her birthday, was trapped in the club until the police arrived. She described the scene as a blur.
"I'm so sorry your birthday got ruined," her friend, Ms. DeSon, told her when they were reunited.
"She's alive though. She's alive for her 21st birthday," said Ms. Whittler, whose badly scratched leg had just been bandaged by emergency medical workers. Moments later, Ms. Whittler's parents arrived in a truck to check in on her.
"Were you hit?" her mother asked, with panic in her eyes. "No, it's just a scratch, I'm fine, I'm fine," Ms. Whittler said.
Michael Millar, 25, who lives near the Borderline and is a regular, was on his way to the bar Wednesday night when people began to call him frantically asking if he was inside.
Police vehicles near the scene.CreditKABC, via Associated Press
He said that the bar was popular with police officers and firefighters, and that it was often busy on Wednesdays because it hosts a college night and allows students under 21 to enter.
As Mr. Millar and his friend Chris Weber walked toward the bar, which was surrounded by police tape, they received a call that a friend who worked the door had been shot. "She's the sweetest, nicest girl," Mr. Millar said, trailing off.
Mr. Weber said that many of the people he believed were at Borderline had attended the music festival in Las Vegas last year where dozens died. He was frantically calling friends early Thursday to try to confirm who was inside.
Young women who were at the Borderline expressed disbelief that the bar, which they sometimes go to several times a week, could become the site of such violence.
"It's safe. It's a safe place to be," said Erika Sigman, a sophomore at Cal State Channel Islands. "You can stay out all night at Borderline because there's major security."
Ms. DeSon said she believed she survived because of the quick reaction of a friend, Cody Coffman.
"He was protecting everyone," she said. "He got up and he just yelled, 'Everyone, run!'"
At a nearby center where families awaited information, Cody's father, Jason Coffman, was frantically searching for any word on his 22-year-old son, whose cellphone went unanswered.
"I am in the dark right now," Mr. Coffman said. "It's actually tearing me up."
When he tracked the cellphone, it pinged from inside the club.
"It's not moving," he said. "It's there."
Mr. Coffman later learned that his son had died.
Jose A. Del Real and Jennifer Medina reported from Thousand Oaks, and Matthew Haag from New York. Gerry Mullany, Russell Goldman and Tiffany May contributed reporting from Hong Kong, and Matt Stevens from New York.