Post by pieter on Mar 21, 2019 3:11:55 GMT -7

Forum big winner in provincial elections, set to take 12 senate seats
Politics March 21, 2019
Thierry Baudet. Photo: Martijn Beekman via HH
With all of the votes counted in Wednesday's provincial elections, Thierry Baudet's right-wing nationalist Forum voor Democratie has won most votes and will take 13 seats in the senate in May.
Forum, which is
pro Nexit
and
does not believe in climate change
, campaigned on
national issues
and did not draw up policies for any of the 12 provinces it will now be represented in.
'
Arrogance and stupidity have been punished
,'
Baudet
said in his victory speech. '
We are being ruined by the people who should be protecting us
,' he said. 'We are being undermined by universities and journalists, by the people who design our buildings.'
Sopporters of Forum voor Democratie cheer when the election results come in an it is clear that Forum voor Democratie is the largest winner.
Senate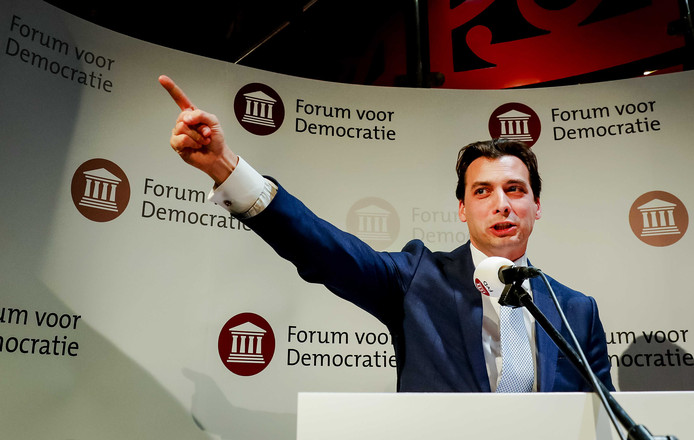 Thierry Baudet during his victory speech wednesday evening in front of his supporters and the Dutch national public and commercial press and media
The four coalition parties will now control 31 of the 75 seats in the senate and will need the support of a fifth party to pass controversial legislation. Forum, Labour and Groenlinks, which almost doubled its support, could all fulfill that role.
Thierry Baudet adresses the Dutch press after it became clear that his party became the big winner, wednesday evening.
Big losers of the night were
Geert Wilders
' anti-immigration
PVV
which is on target to lose four of its nine senate seats, and
the Socialists
which will sink from nine to four.
Wilders
, whose support has been declining for years and has fallen
40% in the provinces
, described his party's losses as '
limited
'. '
Six parties is not nothing
,' he said, adding that that the '
unique PVV voice
' will continue to heard in the senate.
Turnout was up sharply on the last provincial vote, with some 56% of people casting their vote. It was highest (60%) in Zeeland and Utrecht.
Thierry Baudet surrounded by the Dutch press and media after the victory of his party, which became the largest political party in the senate
A modest Geert Wilders congratulated the winners Forum voor Democratie and GroenLinks with their victory. He said that he "Ofcourse would have liked to stand here as a winner, but the new comer Forum voor Democratie took 3 of our seats and 9 from other parties. I congratualte Thierry Baudet. The PVV will continue to work hard in the senate."
Preliminary results
-
VVD
from 13 to
12 seats
(Ideology: Conservative liberalism, Political position: Centre-right)
-
Forum voor Democratie
from 0 to
13 seats
(Ideology:
Dutch nationalism
, Conservatism,
Right-wing populism
, National conservatism, Conservative liberalism,
Euroscepticism
, Direct democracy, and E-democracy. Political position:
Right-wing
)
-
CDA
from 12 to 9 seats (Ideology: Christian democracy. Political position: Centre-right)
-
GroenLinks
from 4 to 9 seats (Ideology: Green politics, Social democracy, Pro-Europeanism. Political position: Centre-left to left-wing)
-
PvdA
from 8 to 7 seats (Ideology: Social democracy, Christian left [historical], and elements of the Free-thinking Democratic League [historical],
en.wikipedia.org/wiki/Free-thinking_Democratic_League
)
-
D66
from 10 to 6 seats (Ideology: Social liberalism, Liberalism and Pro-Europeanism; Political position: Centre)
-
PVV
from 9 to 5 seats (Ideology:
Dutch nationalism
, National liberalism,
Right-wing populism
, Anti-Islam, Anti-immigration and
Euroscepticism
. Political position:
Right-wing
to far-right.)
-
ChristenUnie
from 3 to 4 seats (Christian democracy, Social Christianity, Social conservatism and Soft Euroscepticism)
-
SP
from 9 to 4 seats (Socialist Party; Ideology: Democratic socialism, Social democracy, Left-wing populism and Soft Euroscepticism)
-
Partij voor de Dieren
from 2 to 3 seats (Party for the animals) (Animal rights, Animal welfare, Environmentalism en Soft Euroscepticism)
- 5
0PLUS
unchanged at 2 (Party of the Elders, centrist)
-
SGP
unchanged at 2 (Orthodox Protestant -Calvinist- political party, theocratic, bible oriented, fundamentalist christian)
-
DENK
none (Migrant party, Social Democracy, Leftwing populism)
-
OSF
(independent, local parties) none
Read more at DutchNews.nl: