Post by pieter on Mar 30, 2019 6:51:03 GMT -7
Tens of Thousands of Palestinians Gather in Gaza for March of Return AnniversaryTwo Palestinians have been killed by live Israeli fire, Gaza authorities say ■ Hamas leader Haniyeh, accompanied by Egyptian officials, joined demonstrators, also commemorating Land Day
Jack Khoury and Almog Ben Zikri Mar 30, 2019 3:51 PM
A Palestinian woman wearing a Turban with a key waves the Palestinian flag in front of the fence of Gaza Strip border with Israel, marking first anniversary of Gaza border protests east of Gaza City, Saturday, March 30, 2019.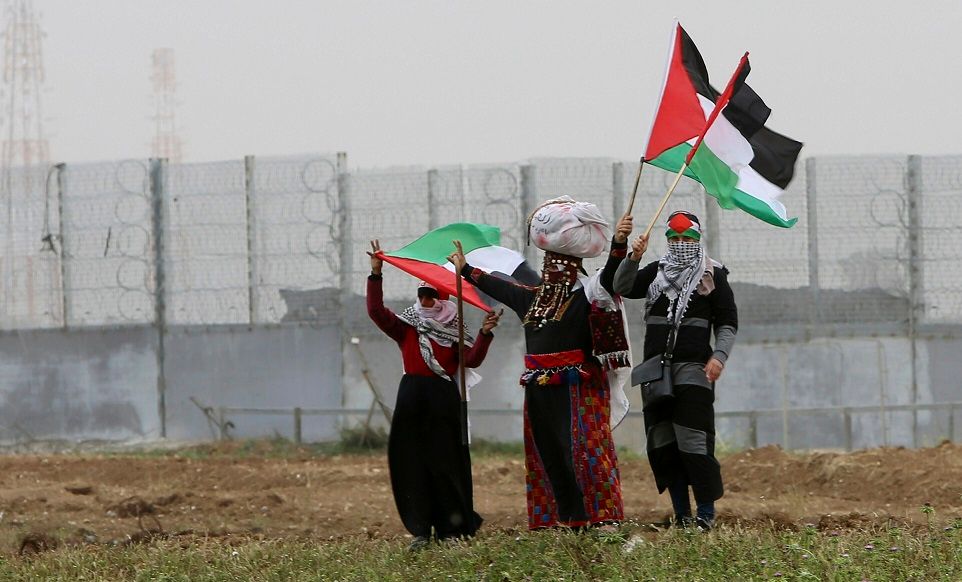 Protester women wave their national flags in front of the fence of Gaza Strip border with Israel, marking first anniversary of Gaza border protests east of Gaza City, Saturday, March 30, 2019.
Thousands of Palestinians have gathered on Saturday in several locations across the Gaza Strip, marking the one-year anniversary of the weekly border protests, which coincides with the annual commemoration of Land Day.
The Gaza Health Ministry said two Palestinians were shot dead by Israeli forces near the border fence, during clashes that began on Friday.
The Israel Defense Forces put the number of protesters at around 40,000, with some of them hurling stones and burning tires. Few grenades and explosives were also thrown over the border fence, it said. The army said they have been using riot dispersal methods as well as live fire.
Palestinian media reported that an Egyptian delegation of defense officials have arrived east of Gaza City to observe the events, as Palestinians began assembling. Hamas politburo chief Ismail Haniyeh is said to have joined the Egyptians.
Israeli forces fired tear gas during a protest marking Land Day and the first anniversary of a surge of demonstrations at the Israel-Gaza fence east of Gaza City on Saturday [Mohammed Salem/Reuters]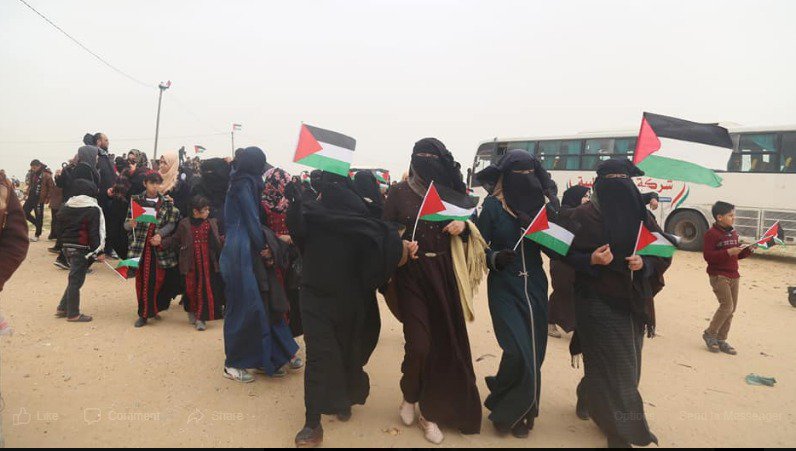 Palestinian women participated yesterday in the Hamas' led protests on the Gaza border
The Gaza Health Ministry reported that 17-year-old Adham Amaara was killed when he was struck in the face by Israeli live fire near the Gaza border.
The Palestinian Red Crescent reported that 59 Palestinians have been evacuated to hospitals in the Strip, including 13 that were wounded by live Israeli fire, four from rubber bullets, and four from shrapnel at the border. One person is in critical condition, another in serious condition, and 25 with medium injuries.
The Great March of Return protests began on March 30 last year after civil society groups in Gaza called for action against the crippling Israeli blockade against the enclave [Ashraf Amra/Anadolu]
Dozens were treated in field clinics erected in tents near the border.
Khalil al-Hayya, a senior Hamas official and deputy of Hamas leader Yahya Sinwar, said, "Israel is being tested, if the Palestinians continue to exert pressure against the occupation Israel will surrender and answer the legitimate demands of the Palestinian people in the Gaza Strip."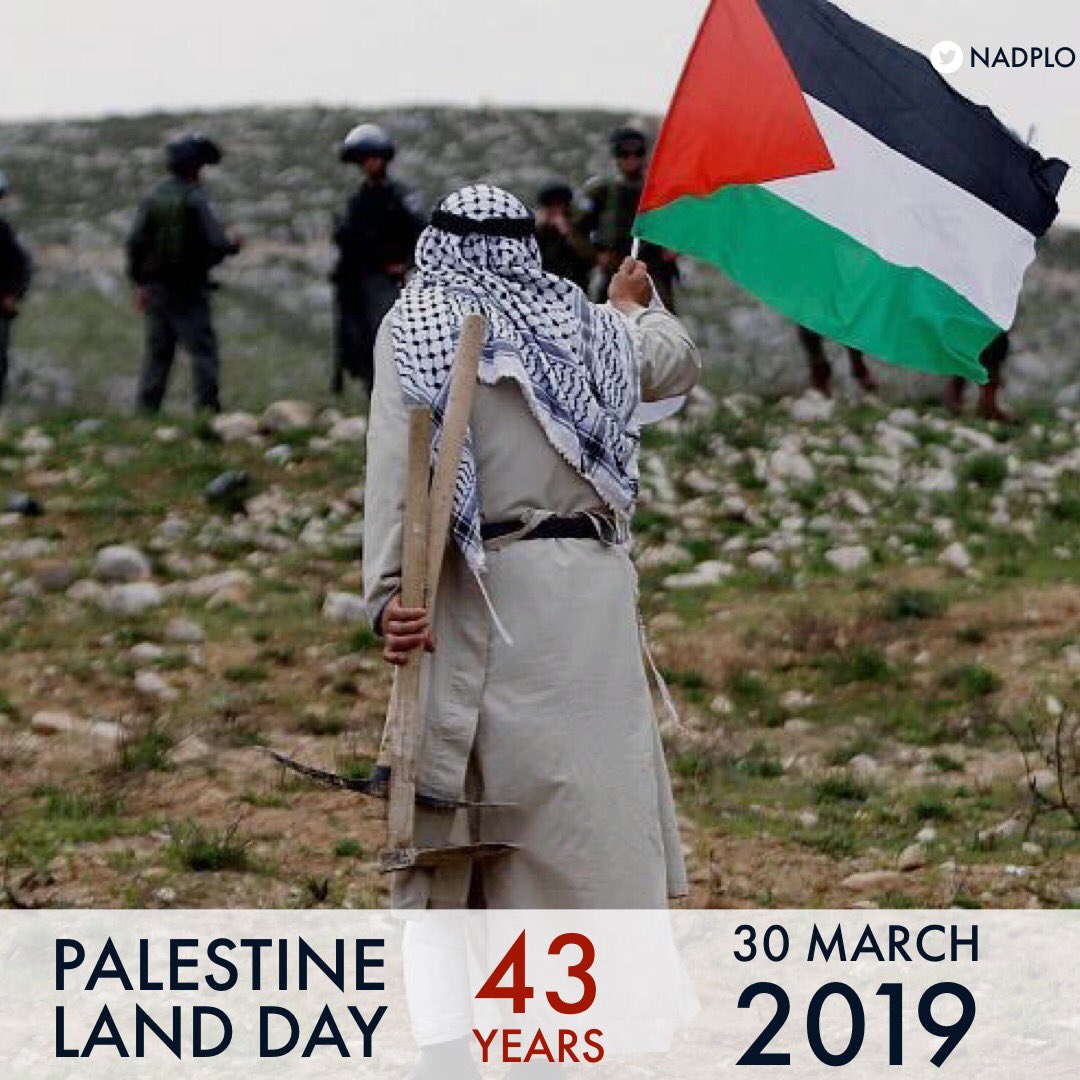 Palestine PLO-NAD: H.E. President Mahmoud Abbas: "The immortal #LandDay anniversary is a time for our people to renew their commitment to the constants and to uphold the accomplishments. With the steadfastness of our people, we are able to thwart all plots hatched against them," #Palestine 10:42 AM - Mar 30, 2019
According to al-Hayya, the Egyptian delegation expects to receive a timeline from Israel tomorrow for implementing the agreement to calm tensions and ease the blockade on Gaza. "We warn Israel from all our experience, that any foot-dragging or denial of these agreements will come at a price, and we warn against any attempts at aggression toward the Palestinian nation," he said.
Palestinian Hamas top leader Ismail Haniyeh waves to protesters during a protest at the Gaza Strip's border with Israel, October 12, 2018. (AP Photo/Khalil Hamra)
Palestinians worldwide have commemorated Land Day since 1976, when Israeli security forces shot dead six Israeli Arabs who were protesting the expropriation of Arab-owned land in northern Israel to build Jewish communities.
People carry the body of a Palestinian who was killed at the Israel-Gaza border, at a hospital in Gaza City, March 30, 2019. Credit: Mohammed Salem/Reuters