Post by pieter on Apr 7, 2019 14:39:00 GMT -7
The King vs. The Prince: Israel's ugliest election campaign ever
Lily Galili
(
www.haaretz.com/misc/writers/WRITER-1.4968104
)
Lily Galili is a feature writer, analyst of Israeli society and expert on immigration from the former Soviet Union. She is the co-author of "The Million that Changed the Middle East."Latest Revision 07 April 2019, 12:57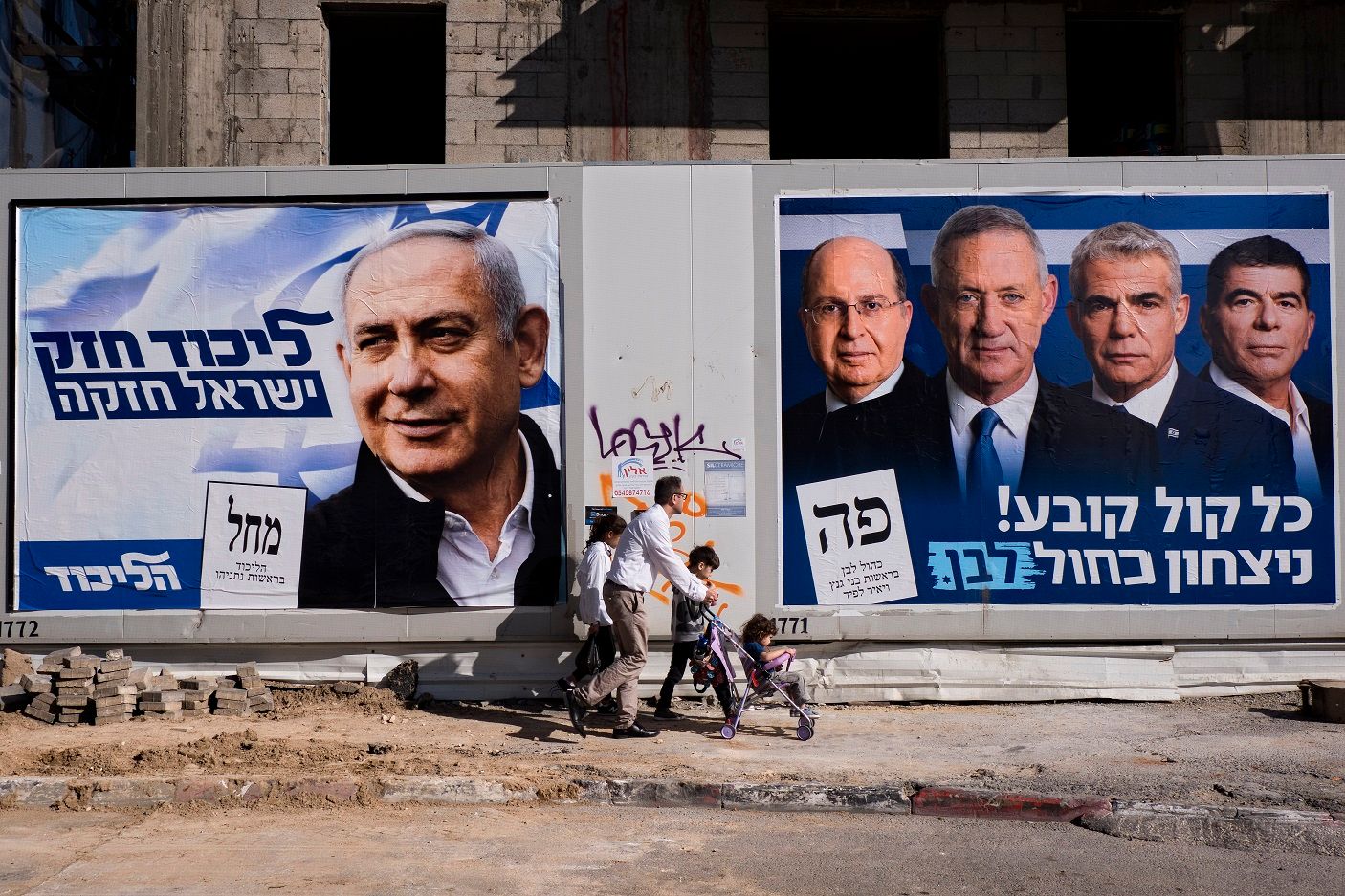 People walk by election campaign billboards showing Israeli Prime Minister and head of the Likud party Benjamin Netanyahu, left, alongside the Blue & White party led by Benny Gantz

Whatever the result on April 9, you will hear a collective sigh of relief across Israel
On Tuesday evening at 10:00 p.m. sharp, ballot boxes will close across Israel and media outlets will all publish the first exit polls of the April 9 vote. Naturally, some Israelis will be happy and others deeply disappointed.
Yet even at this nerve-wracking moment, all Israelis will be united, at least, in the following sentiment: It is finally over.
The ugliest election campaign in Israel's history will come to its end. Gone will be the lies, the offensive insinuations, the mind-blowing mixture of fake affairs and real corruption cases, the brainwashing and assault on the collective consciousness.
Even the years of a toxic social atmosphere in Israel could not have provided an effective antidote to the violent virus that has been this campaign.
For over three months, Israelis have been a captive audience to a play about the rivalry between a King and a Prince that they have not really enjoy watching.
"King Bibi" as he has become known over the years – and having been crowned as such on the cover of Time Magazine in 2012; and the "Prince" Benny Gantz, who earned the moniker over the course of his long military career thanks to his good looks and gentlemanly demeanor.
These are not just metaphors. No king is willing to lose his crown to a prince. That was the underlying theme of this brutal campaign. But there was nothing royal or regal in the rhetoric between the two during the past three long months.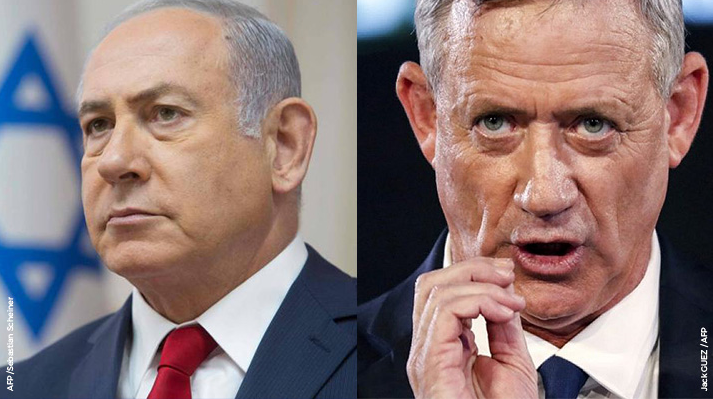 The political rivals Benjamin Netanyahu and Benny Gantz
At the beginning of campaigning, Israel's top pollster,
Dr. Mina Tzemac
h, told
i24NEWS
that for the first time in many years the center-left has a candidate who could really challenge King Bibi's long reign.
Netanyahu knew that too. Much more experienced, and angered by long years of investigations and the announcement of pending bribery and corruption charges against him, Netanyahu entered this campaign wounded.
Gantz, a newcomer to the political arena, was caught off guard. His original strategy was to run a clean campaign. At his debut rally, Gantz's message was: "
Thank you Bibi for 13 years. That's enough; it's time for a change
".
But that couldn't last long amidst aggressive smear campaigning. Soon enough, both candidates' campaigns turned into a Western-style duel. As the famous cowboy saying goes, "
true cowboys are the ones who aren't afraid to get dirty
". And dirty did it get.
Netanyahu
cast
Gantz
as insane, unstable, and "
a weak leftist
". Gantz called
Netanyahu
a
dictator in the making
and said that
if given the opportunity the incumbent premier would kill him
, evoking the memory of the late
PM Yitzchak Rabin
whose assassination marked the conclusion of a similar
hate-fueled campaign
.
Netanyahu insinuated that Iran had gotten its hands on some very embarrassing material after it hacked Gantz's cellphone and that his failed gig as CEO of a start-up company proves he is unfit for the premiership.
Both accused each other of corruption. The rhetoric employed by Netanyahu to describe his former army chief has certainly changed since 2011 when he referred to Gantz as "
high quality, responsible and balanced
".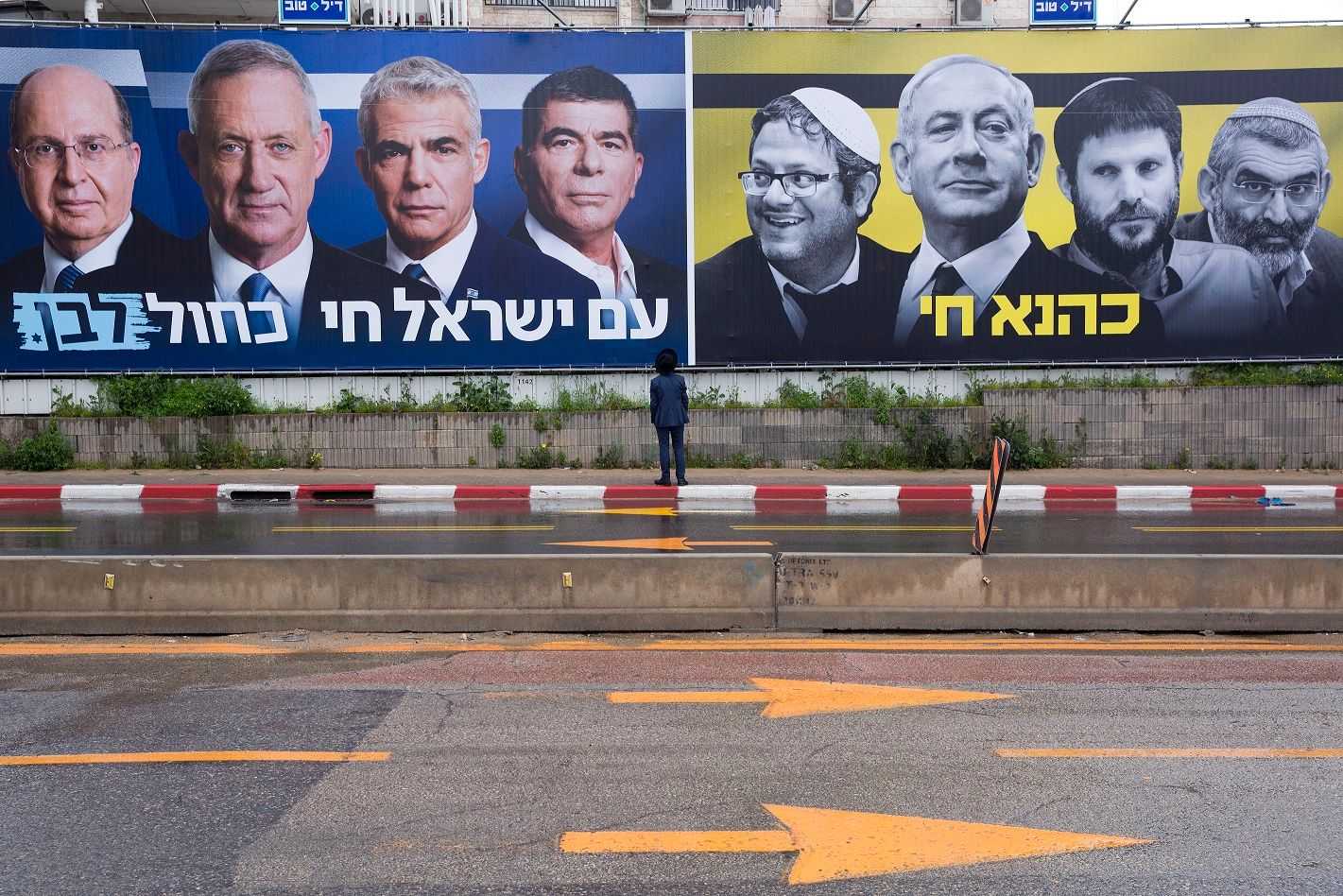 A man looks at an elections billboard of the Blue & White party leaders, from left to right, Moshe Yaalon, Benny Gantz, Yair Lapid and Gabi Ashkenazi, alongside a panel on the right showing Prime Minister Benjamin Netanyahu flanked by extreme right politicians, from the left, Itamar Ben Gvir, Bezalel Smotrich and Michael Ben Ari in Bnei Brak, Israel, Saturday, March 16, 2019.
The unprecedented brutality of 2019 campaign was not the only factor that made it unique. In the unsavory history of Israeli election campaigns, past contestants at least tried to preserve some respectability. They left the "
dirty
" jobs to political aides.
But 2019 was the first campaign in which the two frontrunners themselves attacked each other so viciously. The campaigns had no other substance.
Not the economy, not social issued, certainly not the Israeli-Palestinian conflict, at barely even Gaza -- even as rockets were fired repeatedly at south and central Israel. It was all about personality.
"
The lack of a theme is exactly the reason this campaign was so personal
," Professor Udi Lebel, of Bar-Ilan University's School of Communication, tells i24NEWS. "
It was certainly not an ideological campaign, and therefore easily turned into a completely personal competition between who is more fit to run a business
."
"
The negative campaigns were not about negating an ideology, but about the person himself: 'if Bibi cheated on three wives, who knows how he might cheat in the future; if Gantz hides embarrassing material on his hacked phone, who knows what other skeletons he is hiding in the closet
'," Lebel explains.
Lebel adds that the personal dimensions of campaigns are even more magnified when trying to win over undecided voters.
"
The undecided can easily move between the two parties -- Likud and Blue & White -- and find there not only the same ideology, or lack thereof it, but also the very same people who have simply changed locations
," he says.
"
Under these circumstances, it is all about personality. Social media and the anonymity it provides, certainly plays a crucial role
," he adds.
"
You can tweet whatever you please in the morning, and in the evening official party members will whole heartedly apologize for that outrageous tweet
."
Whatever the result on April 9, you will hear a sigh of relief across Israel.
The reprieve, however, will be short-lived. By experience, negotiations towards the formation of a coalition government is no less ugly.