Post by pieter on May 16, 2019 9:09:50 GMT -7
Ajax players and 100,000 fans celebrate in Amsterdam
May 16, 2019
More than 100,000 people packed into Amsterdam's Museumplein on Thursday afternoon to celebrate
Ajax
's league and cup double.
The father and brother of
Abdelhak Nouri
, the young
Ajax
player felled by brain damage in July 2017, took to the stage to show the championship shield to fans.
Abdelhak Nouri, former Ajax soccer player
Abdelhak Nouri has collapsed to ground during Werder Bremen vs Ajax 2-1, on Sat 8 Jul 2017
The father of Abdelhak Nouri with the 34th championship shield of Ajax.
Nouri
played in shirt
number 34
and all the team were wearing
number 34 shirts
on the podium in his honour – and in
honour of the club's 34th league title
,
which was Nouri's ambition
.
At one point police urged people planning to travel to the festivities to stay home because the area was full to overflowing. The
Museumplein
is full, city officials said on Twitter.
The
Van Gogh
and
Stedelijk museums
were closed because of the expected crowds, and three secondary schools were forced to move school final exams to a new location because of the noise and disturbance.
On Wednesday evening,
Ajax
clinched
the Dutch Eredivisie
title ("
Honour Division
" or "
Premier Division
") for the first time since
2014
and earlier took
the KNVB Cup
for the first time in nine years. The Amsterdammers also narrowly failed to make
the Champions League final
.
The images speak for themselves. When a professional player and trainer says goodbey to soccer and his club.
Fans of the soccer Clubs
Ajax Amsterdam
and
Feijenoord Rotterdam
give everything to their club. Some guys go to every home match and every out-match (a match in an other city of a rival club) and go to every foreign
UEFA Champions League match
of their club.
Thousands of Euro's go to the games of their club, club T-shirts, Club sweaters, club trousers, club flags, club posters, club photographs, club Wallpaper, club duvets, club tablecloths and even some paint their car or van in the club colours.
Not only Ajax and Feijenoord fans are fanatic and follow the club everywhere it goes, in it's ups and downs and sometimes a for a life time. And some families are fans for generations. Great grandfather, grandfather, father, son, grandson and etc. In the same time great grandmothers, grandmothers, mothers, daughters, granddaughters, and nieces, aunts, cousins, uncles, great-uncles and great-aunts were and are hard core fan of clubs. Sometimes whole houses are red and white, the club colors of Ajax, Feijenoord and PSV, with ofcourse the club logo's and names. Games of the club are more important than family reunions, school reunions, trips of the company and sometimes the wife desire for the cinema, a quiet cosy evening at home and etc. These fans often are fan of the legion, that is a group of hundreds or thousands of fans that go to matches together by train, cars, vans, touring cars (large busses), boat and airplane (if they go abroad).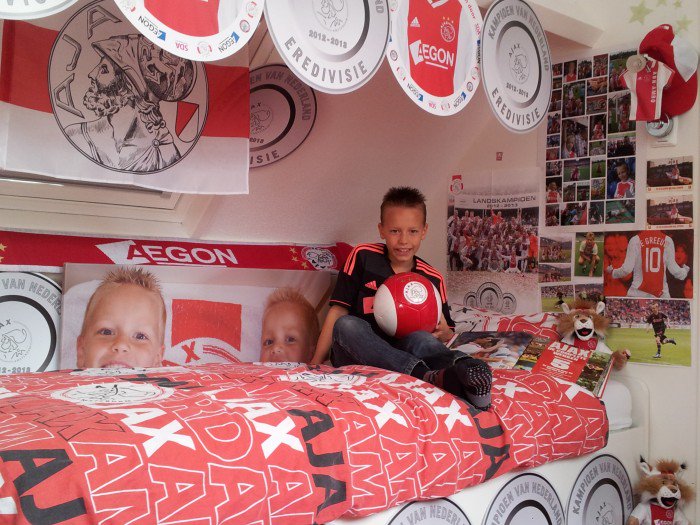 The room of a young Ajax Amsterdam supporter
Fans of Fc Twente (Enschede) partied when their club won the Dutch Eredivisie title a few years backWhen FC Twente drives through the Low Saxon Eastern Twente region at the border with Germany
Eindhoven, PSV, Brabant province, Southern-Netherlands
Cheers,
Pieter
P.S.-
I always avoid mass meetings, because I deteste them due to the noise, hysteria and mass pychosis