Post by pieter on Jul 30, 2019 3:40:49 GMT -7
Adrian Tadeusz Zandberg (born 4 December 1979) is a Polish historian and computer programmer, doctor of humanities and left-wing politician, member of the Board of the Razem (Together) party. His parents moved in 1967 from Poland to Denmark, where Zandberg was born in 1979. In 1985 his family moved back to Poland. After studying history at Warsaw University, he received his doctorate for his dissertation about British and German left-wing social democratic movements. He also studied computer science at a Polish-Japanese computing academy.
Left Together
(
Lewica Razem
) is a coalition electoral committee appointed by
the Razem Party
,
the Labor Union
(
Unia Pracy
) and
the Social Justice Movement
for the European Parliament elections in 2019. They collaborated with the pan-European political organization
Democracy in Europe Movement 2025
(founded by the Greek economist and former finance minister
Janis Warufakis
) with whom in 2016, the party together took part in the cooperation. (
en.wikipedia.org/wiki/Democracy_in_Europe_Movement_2025
)
History
The intention of establishing a joint committee was announced on January 8, 2019 by the politicians of the Party of
Together
,
UP
,
RSS
, the
Polish Socialist Party
and
Freedom and Equality
, as well as representatives of
the Mazovian OPZZ
. Patron of the coalition was announced Polish politician and former parliemant member
Anna Grodzka
. Of the five parties, three eventually announced the establishment of a joint committee on February 28.
PPS
decided not to take part in the elections, while
WiR
supported the European Coalition. The leaders of the coalition of groups and
Anna Grodzka
, while the only one associated with
LR
,
Adam Gierek
from
UP
, did not decide to reelect. Among the persons who opened the electoral lists were nine representatives of
the Total Party
, two
UP
candidates and two representatives of the
RSS
. The lists included 108 members of the Party
Together
(
Razem
), 11
RSS
and 5 people with
UP
and
nonpartisan
. The Committee took the 6th place (the last from
all-Poland
), receiving 1.24% of votes. After the election, the coalition ceased to function, and on 1 June 2019 the name "
Left Together
" ("
Lewica Razem
") was adopted by the existing Party
Together
.
The original text is in Polish:Lewica Razem (koalicja)
Lewica Razem – koalicyjny komitet wyborczy powołany przez Partię Razem, Unię Pracy i Ruch Sprawiedliwości Społecznej na wybory do Parlamentu Europejskiego w 2019. Współpracował z paneuropejską organizacją polityczną Ruch Demokracji w Europie 2025 (założoną przez greckiego ekonomistę i byłego ministra finansów Janisa Warufakisa), z którą w 2016 współpracę podjęła Partia Razem.
Historia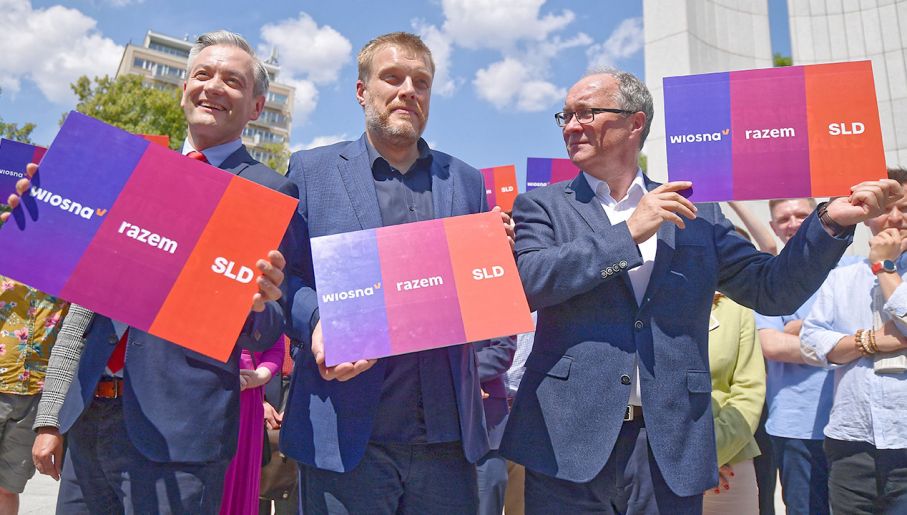 O zamiarze powołania wspólnego komitetu poinformowali 8 stycznia 2019 politycy Partii Razem, UP, RSS, Polskiej Partii Socjalistycznej oraz Wolności i Równości, a także przedstawiciele mazowieckiego OPZZ. Patronką koalicji ogłoszono Annę Grodzką. Spośród pięciu partii, ostatecznie trzy ogłosiły 28 lutego powołanie wspólnego komitetu] PPS zdecydowała się nie brać udziału w wyborach, zaś WiR wsparła Koalicję Europejską. Start do Parlamentu Europejskiego zapowiedzieli liderzy współtworzących koalicję ugrupowań oraz m.in. Anna Grodzka, natomiast o reelekcję nie zdecydował się ubiegać jedyny związany z LR eurodeputowany, Adam Gierek z UP. Wśród osób otwierających listy wyborcze znalazło się dziewięcioro przedstawicieli Partii Razem, dwóch kandydatów UP i dwoje reprezentantów RSS. Na listach znalazło się 108 członków Partii Razem, 11 RSS oraz po 5 osób z UP i bezpartyjnych. Komitet zajął 6. miejsce (ostatnie z ogólnopolskich), otrzymując 1,24% głosów. Po wyborach koalicja przestała funkcjonować, natomiast 1 czerwca 2019 nazwę "Lewica Razem" przybrała dotychczasowa Partia Razem.
The elections are over. I wonder if the coalition Lewica Razem will manage to exist for long. The left in Europe is always divided and coalitions never last long. The individual parties have strong identities, heritages and their own base and grassrootsmovements. There are differences between Razem en Unia Pracy. On the other hand they seem to cooperate with or have reached out a hand to the leftwing SLD (Sojusz Lewicy Demokratycznej).
Cheers,
Pieter