Post by pieter on Oct 5, 2020 15:40:00 GMT -7
Ron and Karl,
Bart Staszewski has the right as a Polish director, social and LGBT activist. The Polish LGBT activist and filmmaker has the right to object the way conservative officials are using the word "ideology" to describe what he considers a natural desire for people who love each other to be together. Staszewski considers himself to be a normal Pole who just wants a good life with his partner and to be able to marry him one day. You can disagree or agree with that, but in a Democracy with Freedom and protection for minority opinions he is free to express his opinions. If Poland was a Roman Catholic theocracy, an Ultra Nationalist homophobic dictatorship or an authoritatian state Staszewski's opinions, sexual orientation and demonstrations could be prohibited, but present day Poland is neither a Roman Catholic theocracy, nor an Ultra Nationalist homophobic dictatorship and not an authoritatian state.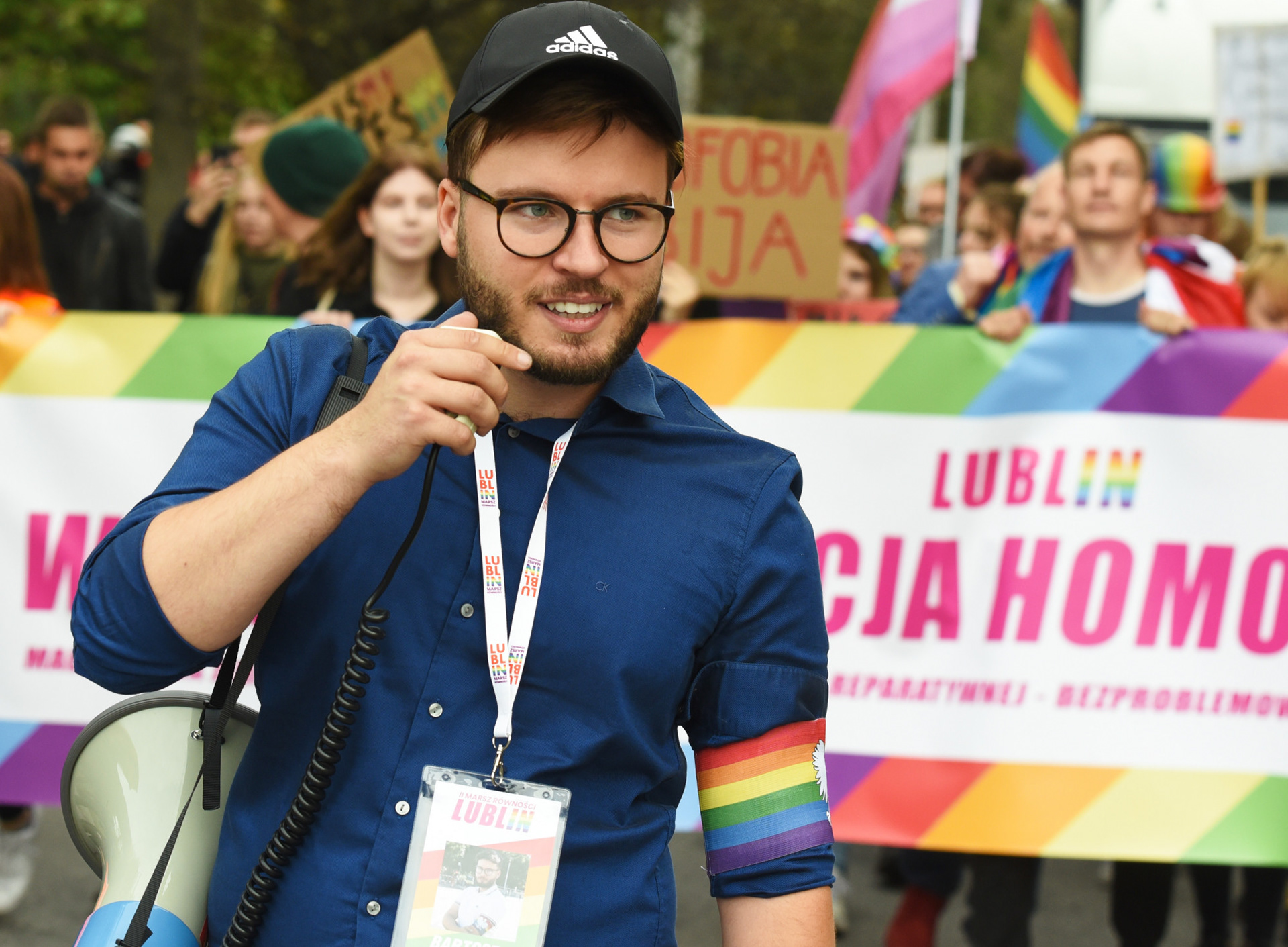 Bart Staszewski during a demonstration in Dublin
I think Staszewski has a point when he states that "the resolutions stigmatize a minority that is already suffering from bullying, depression and homophobic violence, including attacks on pride parades. He recites the names of Polish teenagers who have died by suicide after facing homophobia." I know in the Netherlands several Gay men who suffered depression in the past, because they were raised and lived in a time that 'Gays had to live in the closet' and 'homosexuality wasn't accepted', that they believed that 100% of the world was hetrosexual and that there was something wrong with them, that they wanted to be normal and thought of themselves 'having a normal life with a wife and children', but that reality proved that that was impossible. People are created in diversity and pluriformity. You have hetrosexual, homosexual, lesbian, transgender, queer and also asexual people in the world.
LGBT-free zone
Voivodeships, powiats, and gminas which had passed anti-LGBT resolutions as of January 2020 marked in red
.
"LGBT-free zones" (Polish: Strefy wolne od LGBT) or "LGBT ideology-free zones" (Polish: Strefy wolne od ideologii LGBT) are municipalities and regions of Poland that have declared themselves unwelcoming of an alleged "LGBT ideology", in order to ban equality marches and other LGBT events. As of June 2020, some 100 municipalities (including five voivodships), encompassing about a third of the country, have adopted resolutions which have led to them being called "LGBT-free zones".
Most of the adopted resolutions are lobbied for by an ultra-conservative, Catholic organisation Ordo Iuris [pl]. While unenforceable and primarily symbolic, the declarations represent an attempt to stigmatize LGBT people.
On 18 December 2019, the European Parliament voted, 463 to 107, to condemn the more than 80 such zones in Poland. In July 2020, the Provincial Administrative Courts (Polish: Wojewódzki Sąd Administracyjny) in Gliwice and Radom ruled that the "LGBT ideology free zones" established by the local authorities in Istebna and Klwów gminas respectively are null and void, stressing that they violate the constitution and are discriminatory against members of the LGBT community living in those counties.
Since July 2020, the European Union has denied funding from the Structural Funds and Cohesion Fund to municipalities that have adopted "LGBT-free" declarations, which are in violation of the EU Charter of Fundamental Rights. Poland is the only member state to have an opt-out from the Charter of Fundamental Rights, which it had signed upon its accession to the EU in 2004. In addition, several European sister cities have frozen their partnerships with the Polish municipalities in question.
Karl's reply to Kaima
It is true that Poland bis primarly a Catholic State. 92.9% of all Polish citizens adhere to the Roman Catholic Church. These Lesbian, Gay, Bisexual and Transgender people are what they are, people. My self Pieter? I do not have an opinion about these people, I can not condemn them for what they are. They were created by their parents, and their family dna, genes, blood, genetics, chromosomes, genomes and God has played an important role in that if you are a believing Christian, Jew, Muslim, Hindu, Bahai person, Zoroastrist or person who believes in a deity that creates life. If you are an atheist you will see a Darwinistic evolutionary, biological and chemical reason behind the creation of life and will consider a Gay person a bioligical fact if you are tolerant or a defect if you are intolerant and homophobic.
Karl, the constant reference to the long past war situation will continue to be used by both the left and right in political situations for opportunist reasons. For decades I am aready irritated about the incorrect and opportunistic use of the words '
fascist
', '
Nazi
', '
Kafkaesk
', '
Imperialist
', '
Communist
' or '
Dictatorial
' or '
Exploiter
' for subjects, reasons, situations and happenings which do not fit the discription.
I think the '
LGBT-free zones
' are worrisome, because they limit the Freedom of Speech, Freedom of gathering, Freedom of organisation and Freedom of opinion. My circle of friends, family, colleagues, and acqaintances contains Gay and lesbian people next to hetro people. I have a cousin who is gay and one of my best friends is Gay. My cousin, his husband and my friend are normal people. I see little differences with straight Hetro people, except that they have a different sexual orientation. Maybe the liberal and progressive past of the Netherlands and female and Gay emancipation and equality in the Netherlands have influenced and coloured my point of view. But my opinion is what it is.
Cheers,
Pieter