Post by kaima on Jul 30, 2020 23:14:41 GMT -7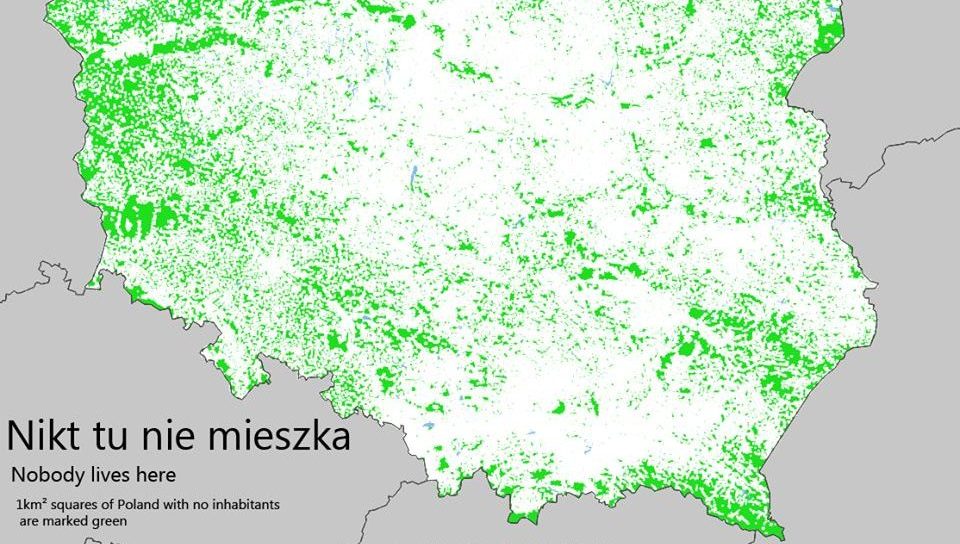 www.hellozdrowie.pl/rzuc-wszystko-i-jedz-tam-gdzie-nikt-nie-mieszka-bieszczady-sa-juz-przereklamowane/
This will be a copy and paste of the Polish text before I ask Chrome to translate it. If it is presenatable, look for the English text following the Polish text.
Popularne powiedzenie: "Rzuć wszystko i jedź w Bieszczady" stało się właśnie nieaktualne. Dla tych, którzy chcieliby spędzić dzień w całkowitej samotności mamy mapę miejsc w Polsce, w których nikt nie mieszka.
Masz dosyć ludzi i chcesz odpocząć lub wybrać się z drugą połówką na romantyczną wycieczkę, żeby nikt wam nie przeszkadzał? Niemożliwe? A jednak! Znamy na to sposób. Portal geoinformacyjny, informujący o nowościach i ciekawostkach ze świata GIS, nawigacji satelitarnej, geodezji, kartografii i urbanistyki opublikował na swoim facebookowym profilu mapę Polski, zaznaczając miejsca, gdzie nikt nie mieszka. Obszary na mapie zaznaczone na zielono to te, w których raczej nie spotkasz żywej duszy. Idealne miejsca na zebranie myśli w ciszy i spokoju, bądź po prostu miły odpoczynek od hałasu i ludzi.
Dlaczego warto uciec z miasta?
Warto czasem pobyć samemu, w izolacji od ludzi i napiętych sytuacji, aby się zrelaksować i nastawić pozytywnie. Długotrwały stres nie jest najlepszy dla człowieka. Pomimo, że w codziennym życiu jest motywatorem naszych poczynań, to nieprzemijający prowadzi do poważnych obciążeń organizmu. Stres rujnuje serce, żołądek, układ odpornościowy, powoduje bezsenność i dodaje lat. Warto zadbać więc o tę sferę zdrowia psychicznego i wyjechać w spokojne miejsce by nabrać dystansu. Pakujcie plecak i w drogę.
The popular saying: "Drop everything and go to the Bieszczady Mountains" has just become obsolete. For those who would like to spend a day in complete solitude, we have a map of places in Poland where nobody lives.
Are you fed up with people and want to rest or go on a romantic trip with your significant other so that no one disturbs you? Impossible? And yet! We know a way. The geoinformation portal, informing about news and curiosities from the world of GIS, satellite navigation, geodesy, cartography and urban planning, has published a map of Poland on its Facebook profile, marking places where nobody lives. The areas marked in green on the map are those where you are unlikely to meet a living soul. Perfect places to collect your thoughts in peace and quiet, or just a nice break from noise and people.
Why is it worth getting away from the city?
Sometimes it is worth being alone, isolated from people and tense situations, in order to relax and be positive. Long-term stress is not the best for humans. Despite the fact that in everyday life he is the motivator of our actions, the everlasting effect leads to serious strain on the body. Stress ruins the heart, stomach, immune system, causes insomnia, and adds years to it. So it is worth taking care of this area of ​​mental health and going to a quiet place to gain distance. Pack your backpack and go.