Post by Jaga on Jan 2, 2021 4:59:00 GMT -7
Polish team is getting stronger in jump ski. They have new talents every year and they just hold on to the titles.
here is the story:
www.olympicchannel.com/en/stories/news/detail/four-hills-dawid-kubacki-breaks-hill-record-garmisch-partenkirchen-victory/
Dawid Kubacki breaks hill record to take Garmisch-Partenkirchen win
Poland's reigning Four Hills champion finished with a spectacular jump to beat World Cup leader Halvor Egner Granerud with Piotr Zyla third.
By Ken Browne ·
1 January 2021 8:47
Dawid Kubacki breaks hill record to take Garmisch-Partenkirchen win
Dawid Kubacki sailed out to a new Garmisch-Partenkirchen hill record of 144m to take claim victory in the second leg of the Four Hills Tournament on Friday 1 January 2021.
The race for the golden eagle was blown wide open as Kubacki jumped 139 and 144m to amass 282.1 points.
Halvor Egner Granerud led after the first round with a jump of 137m, but the pressure was on in jump two as he went right after Kubacki's world-beater and his 136m effort wasn't enough to overtake the leader, leaving him in second place on 274.9 points.
The Norwegian denied Poland a podium sweep as Kubacki, Kamil Stoch, and Piotr Zyla, were 1-2-3 before his final jump.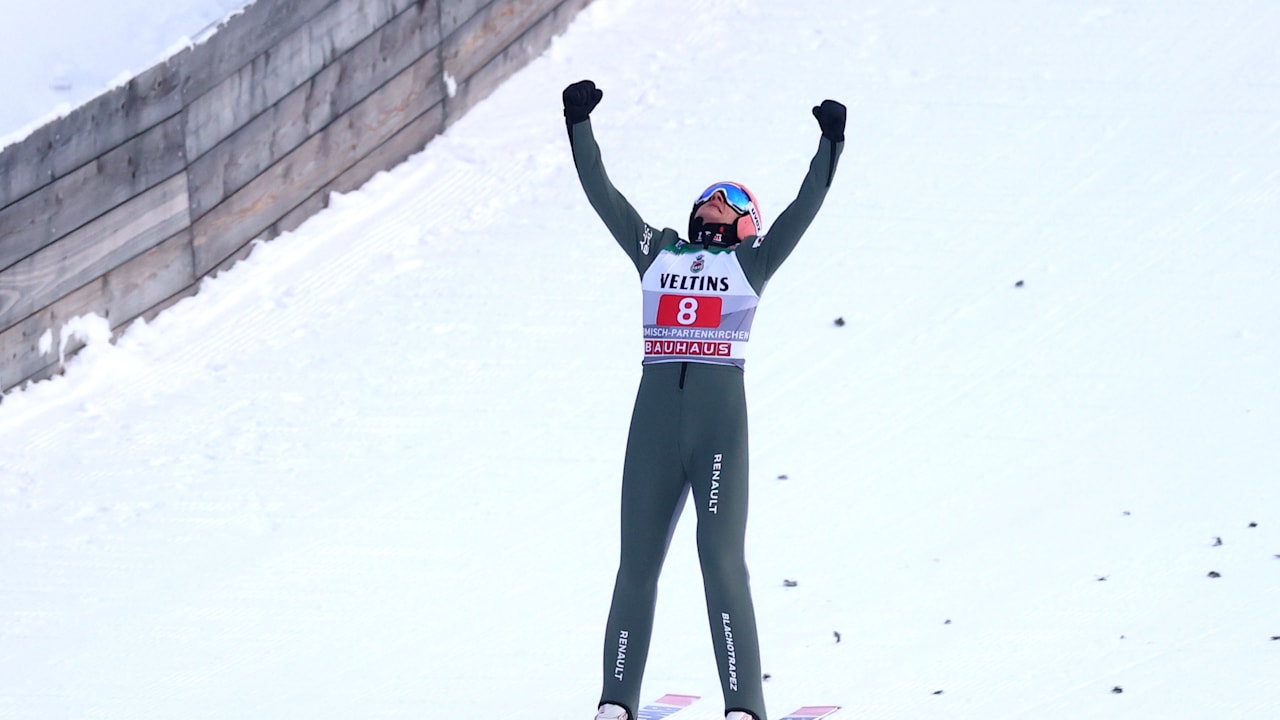 Zyla finished in third place on 260.4, just 0.4 ahead of team-mate Stoch a few days after the whole Polish team looked like missing much of the tournament following a positive coronavirus test in Oberstdorf which proved out to be false.
Kubacki's record-breaking jump eclipsed the previous record of 143.5m set 12 months ago by Marius Lindvik.
Norwegian Lindvik was unable to defend his 'GaPa' title due to toothache which has worsened since Christmas.
"It was a really great competition for me, really good jumping. I was only one point behind the leader after the first round - it was also a really great jump, maybe a bit different wind conditions," winner Kubacki told FIS afterwards.
"The second jump felt really great in the air, maybe a bit better wind conditions, good landing... hill record, that's really amazing."
Next up is the Innsbruck Bergisel Ski Jump as the Four Hills Tournament heads to Austria for the final two legs.
Kubacki has happy memories from last season as he took top spot last year before going on to win the Four Hills tournament crown and lift the golden eagle.