Post by JustJohn or JJ on Oct 7, 2015 7:28:10 GMT -7
Obama Refuses To Accept US Soldiers Bodies Killed By Russian Airstrikes In Syria
The standard disclaimers and warnings to confirm the veracity of this (David Booth) post applies.
By: David Booth, and as reported to Western Subscribers
October 6, 2015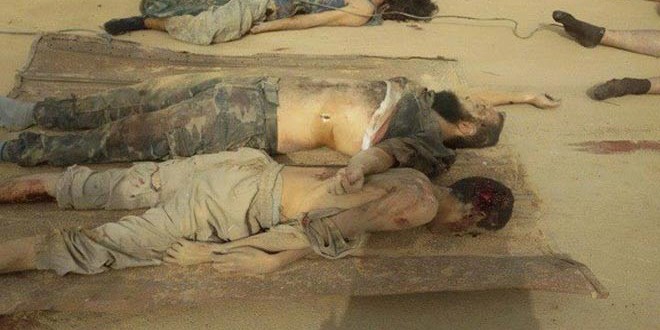 A grim new Ministry of Defense (MoD) report circulating in the Kremlin today states that the Obama regime has refused to repatriate the bodies of at least 3 suspected US Special Forces/Central Intelligence Agency (CIA) soldiers killed by devastating Aerospace Forces air attacks upon an al Qaeda command-and-control center in the Syrian village of al-Latamneh that caused the deaths of over 134 terrorists and forced another estimated 3,000 of these enemy forces to flee to Jordan.
According to this report, and which we had previously reported on too, Russian combat commanders in Syria had feared the loss of American troops due to Aerospace Forces attacks on terrorist bases as these US Special Forces operating illegally in this war zone as commanders were ordered by the Obama regime to wear a combat designation patch on their uniforms that is nearly identical to that worn by ISIS/ISIL troops thus putting their lives in grave danger, and which at least 3 of the terrorists killed in al-Latamneh were wearing.
Immediately after Aerospace Forces attacks had destroyed the al Qaeda forces in al-Latamneh, this report continues, intelligence unites of the Syrian Arab Army (SAA) identified these suspected American troops based upon their finding of "highly skilled" forgeries of their identification documents upon their bodies and, most importantly, satellite phones in their possession showing numerous calls made to various US military bases in Jordan, Bahrain and the United States.
Important to note, this report says, is that the Obama regime started working with al Qaeda in Syria this past August after this terror group changed its name to al-Nusra Front at the request of the Pentagon in an attempt to keep hidden from the America people why its government was now working with the terror group it had been at war with since 11 September 2001 after they had killed over 3,000 innocent Americans.
Austrian general, Matthias Ghalem, who in August was leading international troops in the occupied Golan Heights, this report notes, confirmed the Obama regimes "unholy" alliance with al Qaeda by reporting that the leader of the al-Nusra terrorist group had met with two CIA officers as well as Saudi deputy minister of defense Prince Salman bin Sultan in Jordan's capital city of Amman.
General Ghalem further reported that al-Nusra Front leader Abu-Mohammad al-Jolani signed a financial-military contract with the CIA at this meeting where also attending were two deputies of Obama regime official Robert Stephen Ford who was the former US ambassador to Syria.
Upon being notified by the SAA of these suspected American war dead, this report continues, MoD intelligence coordinators contacted their US counterparts and provided all relevant information about these bodies and their possessions whereupon the Pentagon then cut off all contact stating that they were not authorized to discuss this matter any further.