Post by justjohn on Jan 23, 2008 11:38:54 GMT -7
livia said:

Those large white beans are not Lima Beans are they?
The pork appears to be a smoked pork and the sauce I think would be a tomato paste. Looks good. How do you prepare this?

JJ, the Polish name of this type of beans is "Jaś" (Johnny in translation ;D ;D ;D ) I was unable to find an English name or even the Latin formal name.
I put the beans into water for a night. On the next they I boil them in new water. When almost soft and ready I change the water again. This is good for making the dish less controversive when few hours pass after it is eaten.



I cut the smoked boczek into cubes of 0,5 cm and fry it with a small addition of onion. The same with kiełbasa. The fat that went out of these shouldn't be added to the main pot, the dish is heavy even without it. Then I add tomato paste and spices and boil until the beans are soft.
Did you or Joyce or Chris or anyone ever do gołąbki using the leafs of spinach or grapavine?
Ok, here's what I found.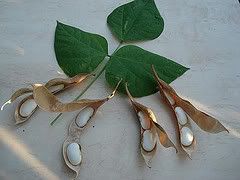 The name of the bean shown is 'Fasola Piekny Jas'.
The following excerpts are from a gardening forum:
did a Google search on 'Piekny Jas' and found many sites with information on 'Fasoloa Piekny Jas'. Most of the sites were in Polish language. I found that it is a large white runner bean. It seems to be one of the most widely grown beans in Poland as it was often a subject for agricultural experiments. A few sites were in English, including an on-line deli which offers them.
Like the initiator of this thread, I wandered into a Polish delicatessan and wandered out with beans (after a dinner of golubke, keilbasa, pirogies, etc.).
There were two kinds of beans, Jas Tyczny and Jas Karlowy. Like a good beaner, I bought some of each.
Jas Karlowy looks like the Piekny Jas discussed above. It is fat and white, about 5/8" long.
Jas Tyczny looks like a giant, fat lima, the biggest bean I've ever seen. It is twice the length and three times the volume of Jas Karlowy.
Naturally, this got me searching again for info about Polish beans. "Fasola" translates to "bean" as you might expect. "Jas" is "Johnny", who apparently is a stereotypical cute (handsome) guy. "Jas Fasola" is Mr. Bean (the comic actor, Rowland Atkinson).
I now need to know the growth habit (bush or pole) of Jas Tyczny, if I am to grow it. It will be interesting to see if either of these are runner beans, as I expect, and if their blossoms are red and showy, as are those of Insuk's Wang Kong.
I then went searching the Internet for a Polish friend from 40 years ago with whom I had lost touch, and found him. And then a Greek friend from the same period. And then an American. Wandering into a Polish deli can lead one in many directions.
Jim
Thank you, Jimster, for resurrecting this thread... I remembered reading about a source for a Polish bean, and had been searching for it. I will definitely be attempting an order from the company in Remy's link.
The white-seeded runner beans that I have grown were also white-flowered, so chances are "Piekny Jas" is also. In the packet photo from Remy's link, it appears to be pole habit.
"Jas Tyczny" is another story. I can't be positive from the photo whether it is a lima or a very large runner bean, although it is most likely a lima. It would probably be worth trying either way. Just be aware that some of the larger limas require a long season to mature; my attempt to grow one of them failed, even though they were started early as transplants. Some things just won't grow Up Nort Der Eh (though I still keep trying). ;-)
Hope this helps a bit. It appears it is si8imilar to a Lima but actually a pole bean. No giants falling down on this one !!!