Post by pieter on May 14, 2019 12:46:02 GMT -7
Julien Bryan
Julien Hequembourg Bryan (23 May 1899 in Titusville, Pennsylvania – 20 October 1974) was an American photographer, filmmaker, and documentarian. He is best known for documenting the daily life in Poland, Soviet Union, and Nazi Germany between 1935 and 1939. He was honored with "Zasłużony dla Kultury Polskiej" ("Merit for Polish culture") during his last visit in Poland (1974) for showing the truth about the Invasion of Poland.[1]
His documentary Siege reported on Poland's defense of its capital against Nazi Germany. Its outtakes are stored and online at the Steven Spielberg Film and Video Archive at the United States Holocaust Memorial Museum.
Bryan graduated from Princeton University in 1921 and finished Union Theological Seminary, though he chose not to be ordained as a minister. Afterwards he directed YMCA in Brooklyn, NY At this time Bryan started traveling abroad taking photographs, making films and writing travelogues along the way. He funded his travels by giving slideshow lectures about countries he visited and by selling his films to various companies including ERPI.[3] Many of the films from those travels can be found in United States Holocaust Memorial Museum's Steven Spielberg Film and Video Archive.[7] Those human-interest movies chronicle travels through China, Caucasus and Georgia (1933), Soviet Union (1930 and 1935), Poland (1936), Germany (1937), Switzerland and the Netherlands (1939). His films and photographs from Nazi Germany chronicled party rallies, daily life on the streets, anti-Jewish propaganda and Nazi leaders. They were incorporated into two ''March of Time'' films. His slide lectures were held in concert halls including Carnegie Hall.
Documenting Nazi Germany in 1937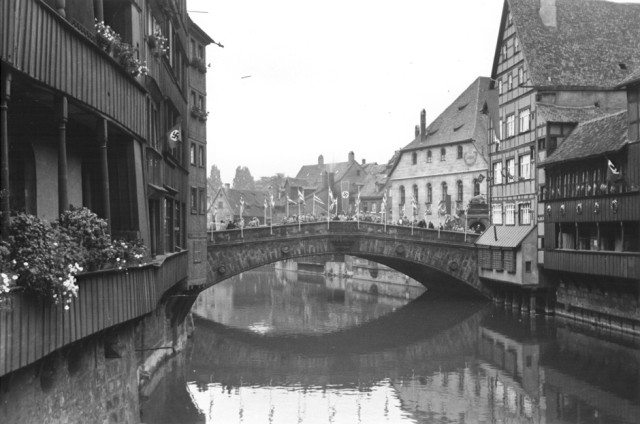 In 1937, he made an extended trip to Nazi Germany, during which he took film and hundreds of photographs of German people at work and at play, Hitler Youth groups, Nazi leaders, party rallies, daily life in cities and on farms, and evidence of the Nazis' anti-Jewish measures. This material was used in numerous film and slide lectures he delivered at auditoriums and concert halls around the country. Bryan's film footage of Germany was incorporated in two 'March of Time' compilation films in the late 1930s. "Inside Nazi Germany" (1938) created controversy in the US and consternation in Germany, as it clearly portrayed elements of Nazi German persecution and aggression.
encyclopedia.ushmm.org/content/en/article/julien-bryan
en.wikipedia.org/wiki/Julien_Bryan
www.faspe.info/journalism2013/?p=369